Zu Ihrer Sicherheit und der weiteren Eindämmung des Coronavirus finden alle Veranstaltungen unter Einhaltung der gesetzlichen Vorschriften statt. Bitte beachten Sie die Hygienemaßnahmen vor Ort.
Rescheduled
Previous date:
Deva Premal & Miten and Friends
Deva Premal & Miten and Friends &nbsp
Münchener Straße 21
90478
Nürnberg
Event organiser:
KardellMedia, Rattenberger Straße 33, 81373 München, Deutschland
Event info
DEVA PREMAL & MITEN and FRIENDS - WORLD TOUR 2022 CELEBRATING 32 YEARS TOGETHER Join world-renowned chant artists Deva Premal & Miten and Friends for a deep immersion into mantra and the healing realm of the heart. These magical gatherings have inspired and transformed audiences across the planet. To celebrate their 30th anniversary, Deva and Miten will feature a collection of old favourites from their 21-album catalogue, along with standout pieces from their 2019 Grammy nominated album DEVA, which includes the Seven Chakra Gayatri Mantra, one of their most famous signature chants. It's difficult to describe the communal rhapsody that occurs when Deva & Miten take the stage. "There is a portal that we all go through, musicians and audiences alike," Miten says. "It's created by - and connected to - everyone in the theatre. For us, it's not about entertainment, it's a matter of life and death. When thousands of kindred spirits gather to chant these ancient prayers, magic happens." Led by the exquisite, telepathically-entwined harmonies of Deva and Miten, the blend of sensual-meets-spiritual, east-meets-west music that they perform has attracted the attention of stars and world teachers. The Dalai Lama includes their chants in his private time, while Cher is currently featuring their composition of the Gayatri Mantra in her current shows. Meditators and yoga practitioners attend their concerts along with fans of new age, trance, rock, fusion, classical, Eastern and all kinds of world music. "Mantra chanting never fails to uplift the tired spirit, no matter how disconnected we may feel," Deva says. "And it always happens. Every theatre becomes a temple when we gather to share our voices in sacred chant."
Videos
Event location
Meistersingerhalle
Münchener Straße 21
90478 Nürnberg
Germany
Plan route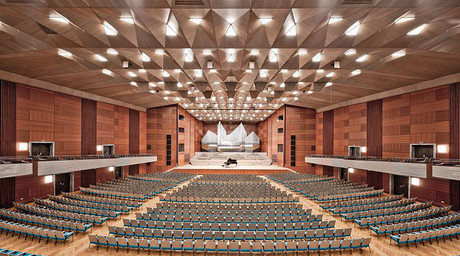 Diese Hallen bieten für jede Veranstaltung den richtigen Raum. Die Meistersingerhalle ist durch ihre vielseitigen Nutzungsmöglichkeiten und die moderne Technik zu einem der wichtigsten Veranstaltungsorte der Stadt avanciert.

Nach dreijähriger Bauzeit wurde die Halle 1963 eröffnet. Sie ist nach der Nürnberger Tradition der Meistersinger benannt. Hier finden seit der Eröffnung Veranstaltungen aller Arten statt. Für große Konzerte, aber auch Tanzbälle, Tagungen und Kongresse kann die Meistersingerhalle genutzt werden. Über 800 Veranstaltungen in den denkmalgeschützten Räumen der Meistersingerhalle locken in jedem Jahr etwa 350.000 Besucher an. Zwei Foyers, zwei Säle und mehrere Konferenzräume bieten genug Platz. Im großen Saal können 770 Choristen neben einer Steinmeyer-Orgel mit 6646 Pfeifen Platz nehmen. Und trotz dieser Größe besticht der Saal durch seine Schlichtheit. Kein Prunk lenkt den Zuhörer vom Geschehen ab. Die beiden Säle der Meistersingerhalle werden auch zu Aufnahmen klassischer Konzerte genutzt.

Im Herzen Nürnbergs ist die Meistersingerhalle zu einer festen Kulturinstitution geworden. Hier können Sie Konzerte der Spitzenklasse live erleben. Lassen Sie sich von international gefeierten Künstlern in fremde Welten entführen – es lohnt sich!